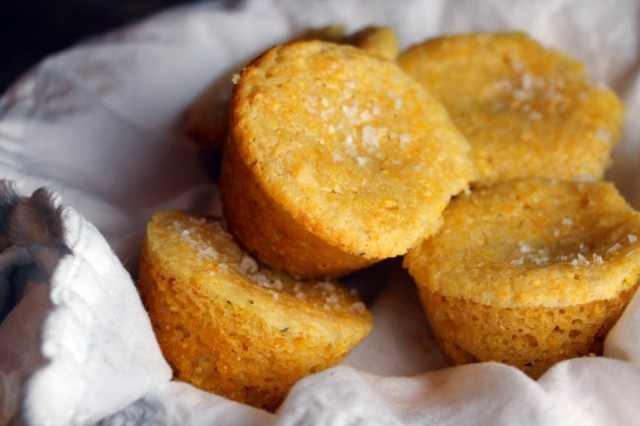 Maple cornbread muffins are a tasty treat to enjoy in a number of delicious ways. You can eat them for breakfast, straight out of the oven with some butter, or bake them as a side for various recipes such as soups, chili, casseroles, you name it! This medicated recipe features cornbread muffins made with organic pure maple syrup and medicated with medicinal marijuana butter. Try this marvelously warm and delightful dish during the coldest days we've seen this year!
Yields 12 muffins
Here's What You Need:
1 cup unbleached all-purpose flour
1 cup cornmeal
2 teaspoons baking powder
½ teaspoon baking soda
1 teaspoon salt
1 cup organic milk
1 organic egg (beaten)
¼ cup organic pure maple syrup
2 tablespoons cannabis-infused butter (melted, but cooled for the batter)
3 tablespoons cannabis-infused butter (prepping the muffin-tin)
How to Make Mary Jane's Maple Cornbread Muffins
To begin, preheat your oven to 400 degrees Fahrenheit.
Place ¼ tablespoon of cannabis-infused butter into each cup of your muffin tin (3 tablespoons for prepping pan).
In a large bowl, whisk the dry ingredients (flour, cornmeal, baking powder and salt) together and then sift them through a fine mesh strainer.
Melt the 4 tablespoons of cannabis-infused butter in a small sauce pan over medium-low heat, or in a small bowl in the microwave. Let the butter stand for a minute or two until it is room-temperature to the touch – you do not want the melted cannbutter to be hot.
Next, in a small bowl beat the egg and combine it with the other wet ingredients: milk, maple syrup and the melted cannabis-infused butter. Mix well to ensure the three ingredients have combined well.
Then, pour the wet ingredients into the large bowl containing the sifted dry goods. Mix until just combined. The batter may appear thin or have a few bumps and that's just fine. Allow the muffin batter to sit for 1-2 minutes prior to filling the muffin tin.
After, place the prepped muffin tin into the preheated oven for about a minute or so, or until the cannabutter has melted in each cup.
Carefully remove the muffin tin from the oven and gently swirl the tin to ensure the melted cannabutter distributes itself around each cup and covers the sides a bit.
Fill each cup of the muffin tin about ¾ full with the maple cornbread muffin batter and place the muffin tin back into your hot oven.
Bake the muffins for 20 minutes, or until they're golden brown in color and smell amazing!
After 20 minutes, remove the muffin tin from the oven and place the tin on a wire rack to cool for 5 minutes.
Remove the muffins after 5 minutes and place them on the wire rack.
Serve with your choice of butter, or as a side for more savory dishes such as chili, soups, beans, or casseroles!
Enjoy!
Check out other posts from Weedist's Great Edibles Recipes series!