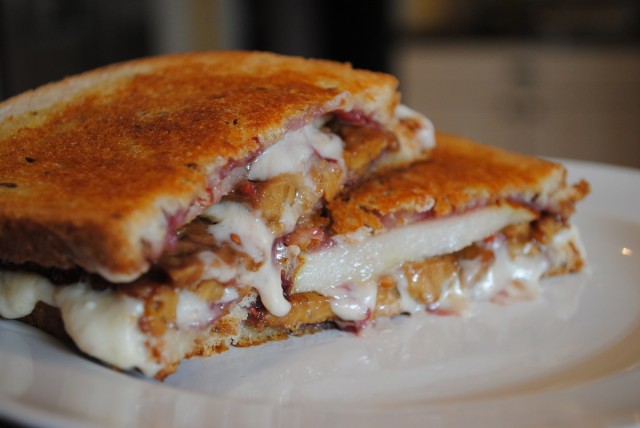 Grilled cheese is a meal that I remember distinctly from my childhood. The most adventurous recipe for grilled cheese that I experienced back then was a simple grilled ham and cheese. This medicated recipe is a much more unique take on the classic grilled cheese sandwich, featuring a grilled cheese made with thinly sliced pears and delicious, raspberry jam. The sweet and savory blend of flavors will be sure to transport your taste buds to a place they've never been before!
Serves 2
Here's What You Need:
4 slices of hearty bread (grainy, wheat varieties work well)
3-4 tablespoons organic raspberry jam/preserves
1 ripe organic pear (thinly sliced)
4 slices muenster cheese
2 tablespoons cannabis-infused butter (room-temperature)
a pinch of salt for each sandwich
How to Make Raspberry-Pear Grilled Cheese Sandwich
To begin, preheat a large skillet on the stove-top, somewhere in between medium and medium-high heat (start low and increase the heat if you have to).
Thinly slice the organic pear and set it to the side for now.
Next, take one slice of the hearty bread and smear one of its sides with ½ tablespoon of the room-temperature cannabis-infused butter.
After, smear the other side of the slice of bread with anywhere from 1-2 tablespoons of the organic raspberry jam.
Then, place the coated slice of bread, cannabis-infused butter side down, onto the preheated skillet – you should hear an instant sizzle when the buttery side of the sandwich makes contact with the skillet. If not, increase the heat slightly, but do not exceed medium-high.
Next, it's time to build the sandwich from the ground up! Proceed to place the thin slices of pear down onto the raspberry jam that's currently exposed.
Then, place 2 slices of muenster cheese over top of the slices of pear.
Reduce the stove's heat to low and then cover your skillet with a lid, allowing steam to build up and melt the cheese some more.
As the cheese is melting, grab the second slice of bread and smear one side of it with another ½ tablespoon of cannabis-infused butter.
Remove the lid from the skillet, and place the second slice of bread on top of your sandwich, so that the side with the cannabis-infused butter is facing up towards the ceiling.
After the sandwich is completed with the second piece of bread, flip the grilled cheese to cook the other side and to melt the sandwich completely together. If you need to increase the heat from low to medium you can, but most likely the pan will be hot enough even at a low temperature.
After roughly 3 minutes, remove the grilled cheese sandwich from the skillet and plate it.
Repeat the process for the second sandwich.
Slice both of the raspberry-pear grilled cheese sandwiches diagonally down the middle and serve immediately.
Enjoy!
Check out other posts from Weedist's Great Edibles Recipes series!