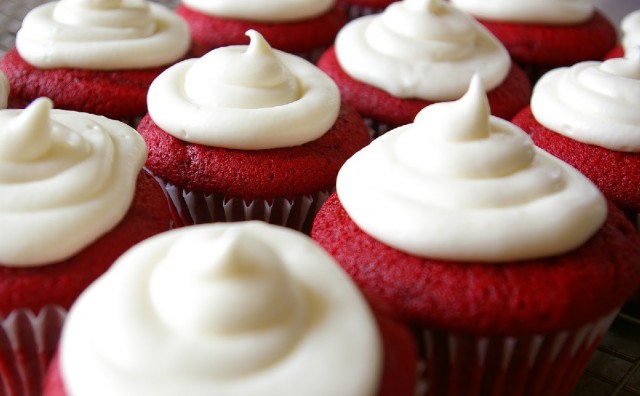 Red velvet cupcakes are my favorite cupcake, hands down. I love chocolate, but for whatever reason the cocoa simply tastes better to me in red velvet form. Not to mention that cream cheese frosting — I could eat it right out of the bowl if you'd let me. This medicated recipe features the classic red velvet cupcake crowned with a sweet, cream cheese frosting – a perfect treat for family, friends, and loved ones during our coldest season.
Yields 30 cupcakes
Here's What You Need:
Red Velvet Cupcakes Ingredients
2½ cups flour
½ cup unsweetened cocoa powder
1 teaspoon baking soda
½ teaspoon salt
1 cup cannabis-infused butter (softened)
2 cups sugar
4 organic eggs
1 cup sour cream
½ cup organic whole milk
1 (1 oz) bottle of red food coloring
2 teaspoons organic pure vanilla extract
paper lined muffin cups
1-2 muffin tin(s)
Cream Cheese Frosting Ingredients
1 (8 oz) package of cream cheese (softened)
¼ cup butter (softened)
2 tablespoons sour cream
2 teaspoons organic pure vanilla extract
1 (16 oz) box confectioner's/powdered sugar
How to Make Red Velvet Cannabis Cupcakes
To begin, preheat your oven to 350 degrees Fahrenheit.
Next, mix the flour, cocoa, baking soda and salt in a medium bowl. Set the bowl to the side for now.
Using an electric hand-held mixer or standing mixer, beat the softened cannabis-infused butter and sugar in a large bowl until it's light and fluffy.
Then, beat in the eggs, one at a time, until they're fully incorporated.
After, mix in the sour cream, milk, red food coloring and pure vanilla extract on low-speed until the batter is fully combined – do not over beat the batter.
Place the paper-lined muffin cups into the muffin tins.
Proceed to spoon the red velvet cupcake batter into the muffin cups until they are all roughly 2/3 of the way full.
Place the red velvet cupcakes into your preheated oven and bake them for 20 minutes, or until a toothpick comes out clean when inserted into the center of the cupcake.
Remove the muffin tin from the oven, and place the entire pan on a wire rack to cool.
Allow the cupcakes to cool in the muffin tin for 5 minutes, then remove the cupcakes from the pan and allow them to cool by themselves on the wire rack until they're thoroughly cooled. The cupcakes should be completely cool before you ice them with the cream-cheese frosting.
While the cupcakes are cooling, being to create the cream cheese frosting.
In a large bowl, beat the room-temperature cream cheese, softened butter, sour cream and pure vanilla extract until it's light and fluffy.
Next, gradually add in the confectioner's sugar, and continue to beat the frosting until it's smooth and creamy.
Proceed to ice the red velvet cupcakes and serve them immediately.
Enjoy!
Check out other posts from Weedist's Great Edibles Recipes series!