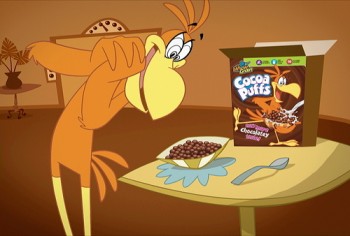 If you're cuckoo for cannabis and Cocoa Puffs, you'll enjoy this simple cereal-topped cupcake recipe.
Ingredients:
1½ cups all-purpose flour
1 cup sugar
½ cup cocoa powder
1 teaspoon baking soda
¼ teaspoon salt
1 large egg
4-6 tablespoons cannabutter
2½ tablespoons melted butter
1 teaspoon vanilla extract
1 cup whole milk
1 cup confectioners' sugar
1½ tablespoons milk
3 large handfuls of Cocoa Puffs cereal
Directions:
Preheat your over to 350°F and line a muffin pan with paper baking cups. Sift the flour, cocoa, sugar, baking soda, and salt into a large mixing bowl. In a second bowl, whisk the egg together with the cannabutter, regular butter and vanilla extract until well mixed. Now, add the egg mix to the flour mix and stir until combined.
Pour the muffin batter into the muffin cups until each is about two-thirds full and then bake for 18-22 minutes, until a skewer inserted into the center comes out clean. All the cupcakes to cool in the pan for an additional 5-10 minutes then remove them and leave them to finish cooling on a wire rack.
To make the icing, combine the confectioners' sugar and milk together in a bowl and top the cupcakes with it. Finally, dot the tops of the cupcakes with Cocoa Puffs. Enjoy!